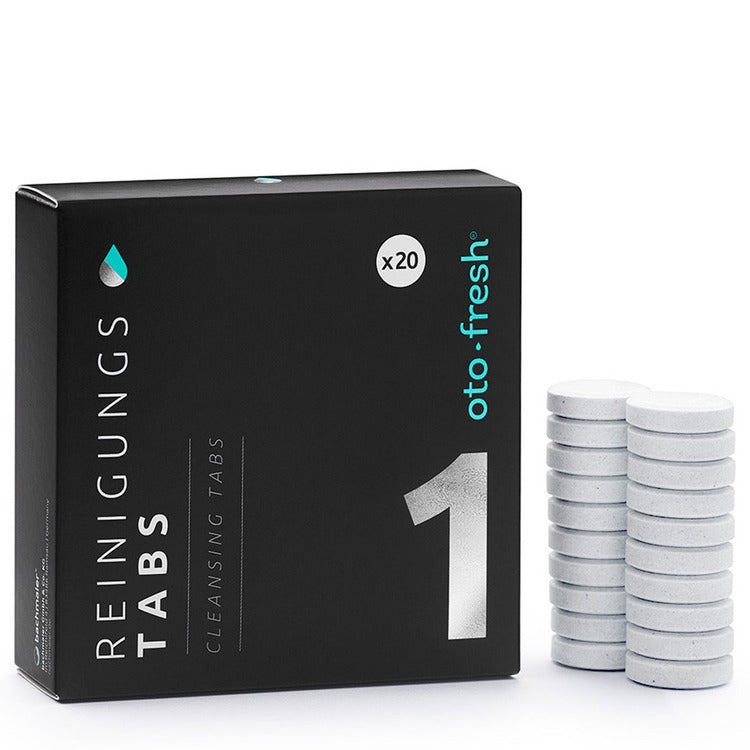 Oto-fresh cleansing tablets (20 pack)
Price: £5.50
---
Effervescent cleansing tablets for earmoulds
20 tablets individually wrapped
Removes earwax
---
---
Pack of 20 effervescent cleansing tablets for removing ear wax from earmoulds.

Simply dissolve one tablet in an Oto-fresh cleansing beaker (sold separately) in lukewarm water.

Place the earmould (not your hearing instrument) into this solution for at least 30 minutes, ideally over night. Then take the earmould out and rinse it under running water.

Dry the earmould and blow through it in the morning with the puffer to make sure no liquid remains.

This product is also available as part of our Otofresh hearing aid care kit. 

Safety: Please keep small items and tablets away from children. Adult supervision required.

Hygiene: This product is non-returnable due to hygiene reasons.

Pack contains: 20 x cleansing tablets supplied in individual sachets.

Photography and description: Courtesy of Connevans.
Please note we can only deliver to UK and BFPO addresses.
A delivery charge of £2.99 will apply to all orders under £30. All orders over £30 qualify for free delivery.
Your order will normally be delivered within 14 days, although in most cases delivery will be quicker. We regret that we can only despatch orders to a UK address.
Oto-fresh cleansing tablets (20 pack)
Price: £5.50
---
Effervescent cleansing tablets for earmoulds
20 tablets individually wrapped
Removes earwax
---