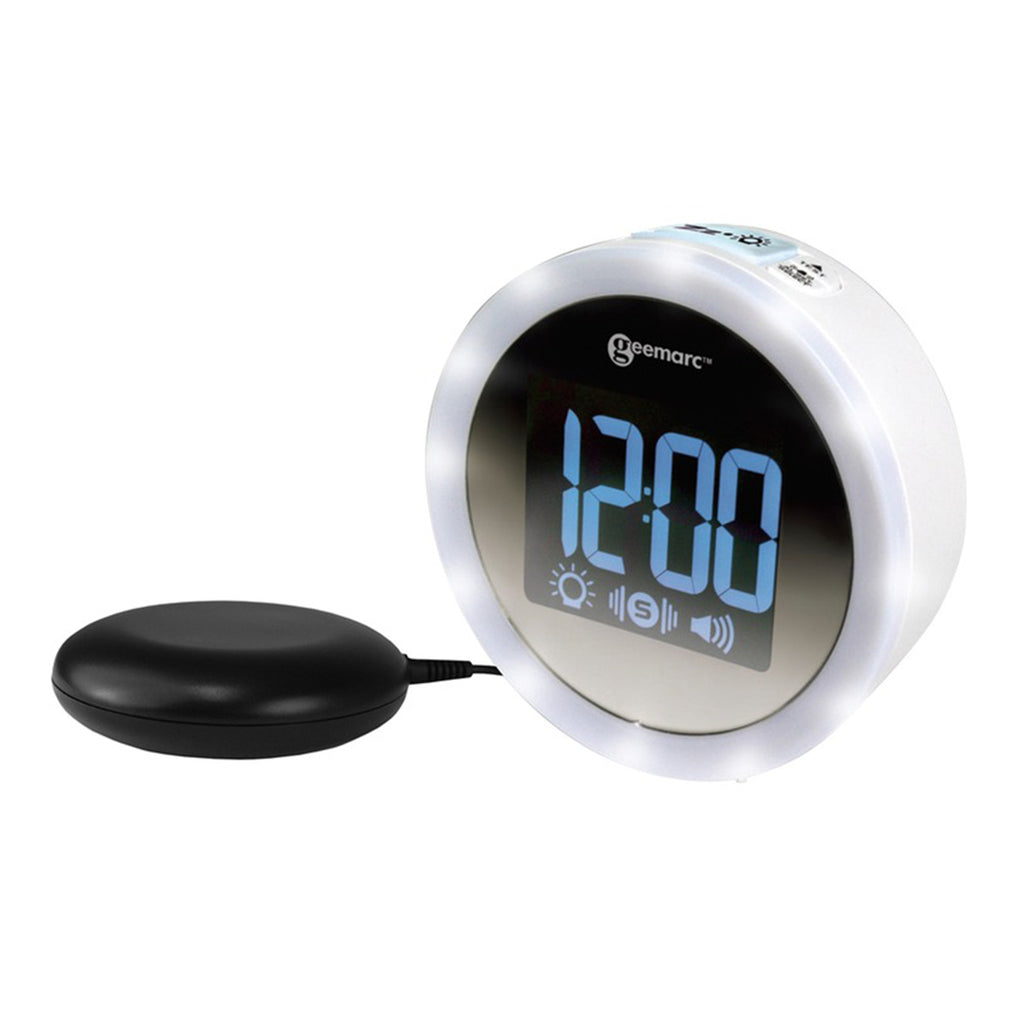 Geemarc Wake 'n' Shake Star alarm clock
With VAT Relief: £50.99
Price: £61.19
---
Extra loud alarm clock (95db)
Multiple alarm modes including flashing, ringer, and vibrating options
---
---
An extra loud alarm clock with vibrating bed shaker that is ideal for anyone who struggles to wake up with a standard alarm clock. The compact design is modern and stylish so it will fit nicely on any bedside table without being too intrusive.

You don't have to worry about the alarm clock being too bright at night since the dimmer switch allows you to choose from low, medium and high options. You can fully customise the alarm settings so you can have the vibration function, flash function and alarm functions set to your own personal preference.

The inbuilt white LED lights serves as an extra bright flash when the alarm goes off or you can use the lamp function, which is handy to have in case you don't want you bedside table to be too cluttered. You can also choose from three levels of volume and tone control as well as two levels of vibration with the supplied shaker, which can be easily placed under your pillow. You can also use the USB port on the alarm clock to charge smartphones and other electronics.

Features: USB port to recharge mobiles and other electronic devices. Extra loud (95dB) programmable alarm. Alarm options: off, vibrator only, ringer only (don't connect vibrator), ringer and vibrator, vibrator and flash or ringer, and vibrator and flash. Duration of alarm: up to 1 hour. From 5-60 mins snooze function. 12/24 hours time format available. Adjustable tone control to suit your hearing (low, mid and high). Supplied with vibrating pillow shaker (selectable high or low vibration strength). Large white display with adjustable dimmer switch (low, medium or high).

Safety: UK power supply provided. Back-up battery (CR2032) available from manufacturer.

Included in pack: Adaptor Plug. Shaker pad to put under your pillow. Jack plug: 5.5mm. Wire length: 2 metres.

Size: 115mm x 40mm x 115mm, Weight: 0.32g


Warranty: Two years.

Product description and photographs courtesy of Connevans.
This product is eligible for VAT relief.
This means that if you are buying the item and have a chronic condition or illness (such as being hard of hearing, partially deaf or deaf), you can automatically deduct the VAT from this product when you add to basket and select your VAT exemption status. Please visit our VAT policy page to find out more about eligibility for VAT exemption.
Please note we can only deliver to UK and BFPO addresses.
A delivery charge of £2.99 will apply to all orders under £30. All orders over £30 qualify for free delivery.
Your order will normally be delivered within 14 days, although in most cases delivery will be quicker. We regret that we can only despatch orders to a UK address.
Geemarc Wake 'n' Shake Star alarm clock
With VAT Relief: £50.99
Price: £61.19
---
Extra loud alarm clock (95db)
Multiple alarm modes including flashing, ringer, and vibrating options
---